---
Harbour Pontoon Berth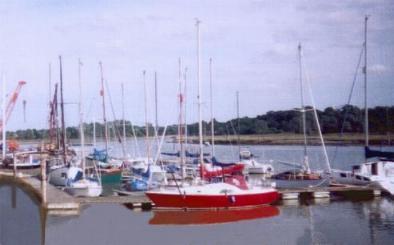 Our small harbour has all the "walk-aboard" convenience associated with large marinas whilst retaining the rural charm associated with the "Area of Outstanding Natural Beauty" in which it is situated.
In short, an ideal place to escape from the everyday hustle and bustle.
The harbour is dredged to provide permanent water and electricity and drinking water is available on the pontoons.
Ashore there are separate male and female WCs and Showers. These are maintained solely for the use of our customers and their friends and, being near a public footpath, are entered via a coded lock.
Berths are allocated on an annual basis and the annual fee includes Storage Ashore when required. If preferred, fees may be paid quarterly by prior arrangement.
If space permits, Berths may be allocated for periods of less than one year. With charges varying according to the time of year.
We keep a few berths vacant for our own use and can usually accommodate visitors. To avoid disappointment please arrange with us in advance.
SWING MOORING
We have a number of swing/mud moorings which "dry-out" at low water.
If your boat has the type of hull which can cope with this, and you are happy with "dinghy" only access, it is the cheapest way to be afloat.
Swing mooring charges of course include the use of the WC & Shower facilities described above and the storage of dinghies ashore.
Please contact us regarding availability and prices,our telephone and fax numbers are on our Home Page.
---