---
STORAGE ASHORE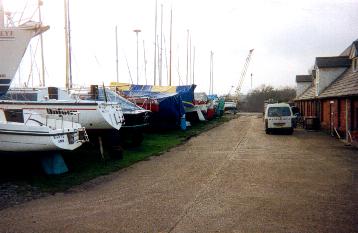 Layed-up for Winter 1999-2000
Acres of storage space and car parking ashore with plenty of lifting power to get your boat safely into position whether arriving by water or by road transport.
If you want to do your own maintenance, electricity is available for power tools.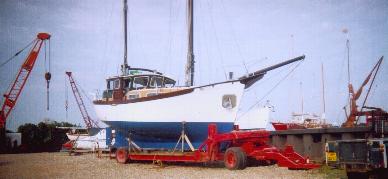 Work completed ready to launch - July 2000
The WCs and Showers are available so you can clean-up when you have finished work.
Our Lay-up/Storage service is available to everyone and in fact we only see the vast majority of our customers during the winter months.
Storage charges vary according to the length of the storage period required. The minimum charge time is one month.
Please contact us for a quotation our telephone number is on our Home Page.
---
SPECIAL NOTE FOR BOAT TRANSPORTERS
Our location is ideal for the delivery of large boats. There are no significant built-up areas to pass through and there is straight line access down Dock Lane onto our Quay.
---